Burn, Amy, Burn! Chipotle Ale (09.16.2007)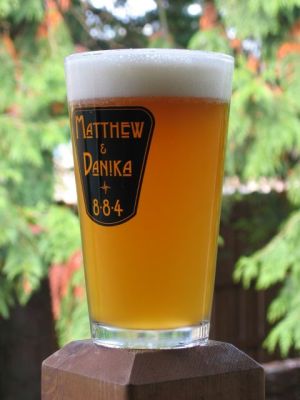 Ingredients (10 gallon batch)

18 lb
-
2-row
3 lb
-
german light crystal
1½ lb
-
munich
1½ lb
-
flaked
1
-
1056 american ale wyeast
2 oz
-
perle 8.6% aa (boil)
1 oz
-
cascade 7.6% aa (15 min)
1 oz
-
cascade 7.6% aa (5 min)
1 oz
-
fuggle 4.0% aa
(dry hop ½ oz per 5 gal)
~10
-
chipotle peppers
(in secodary ~5 per 5 gal)

Brew schedule

8:10
start heating strike water (9 gal)
8:43
mash starts - mash: 157°F
strike water: 168°F
9:46
sparge starts - mash: 154°F
water: 174°F
10:13
sparge ends - mash: 151°F
water 171°F (7.5 gals added)
10:40
hot break ends
11:40
boil ends
11:45
wort chill starts
11:53
wort chill ends
12:15
all cleaned up
Transfers

| | |
| --- | --- |
| 09.27.2007 | secondary |
| 10.11.2007 | kegged |

Specs

Original gravity: 1.046
Secondary transfer: 1.014
Final gravity: 1.013
3.4% by weight
4.3% by volume

Notes
½ oz of fuggles (4.0% aa) (per 5 gal) used to dry hop in secondary.
Approximately 5 chipotle peppers (per 5 gal) added in secondary.
Peppers were purchased at Mexican grocer in Pike Place Market.
Peppers were boiled and put in hop bag with the hops.
Next time cut the peppers up and use more than one hop bag
(very difficult to get out of secondaries).
The water the peppers were boiled in was also added to secondary.
Nice balance, the beer tastes like chipotles, but isn't spicy.