Rainy Day Winter Rye Ale (12.06.2008)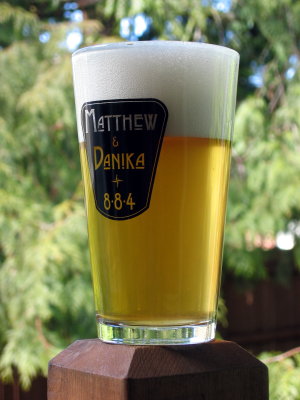 Ingredients (10 gallon batch)

| | | |
| --- | --- | --- |
| 19 lb | - | 2-row |
| 3 lb | - | rye |
| 1 lb | - | flaked rye |
| 1 lb | - | light german crystal |
| 2 | - | 3056 bavarian wheat wyeast |
| 4 oz | - | saaz 2.8% aa (boil) |
| 1 oz | - | saaz 2.8% aa (15 min) |
| 1 oz | - | saaz 2.8% aa (5 min) |

Brew schedule

7:45
start heating strike water (9 gal)
8:20
mash starts - mash: 152°F
strike water: 160°F
9:20
mash ends - mash: 147°F
9:50
sparge starts - mash: 174°F
water: 174°F
10:03
sparge ends - mash: 164°F
water 173°F (7 gals added)
10:30
hot break ends
11:30
boil ends
12:15
all cleaned up
Transfers

| | |
| --- | --- |
| 12.17.2008 | secondary |
| 01.21.2009 | kegged |

Specs

Original gravity: 1.044
Secondary transfer: 1.011
Final gravity: 1.011
3.1% by weight
3.9% by volume

Notes
Brewed for family & friends.
Saaz hops substituted for tettnang (15 and 5 min).
Poor conversion (low gravity) may be due to 3-4 lbs of 2-row not milled?
Beer turned out great, continue to use Saaz (instead of tettnang).
Photo of partial glass since it was the last glass from tap (and ran out).