Frost on the Pumpkin Ale (v2.0) (10.03.2009)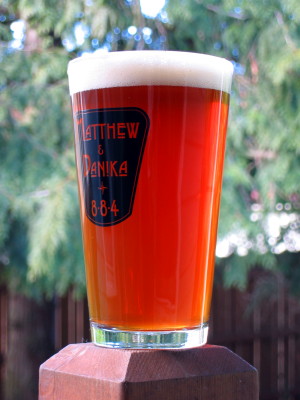 Ingredients (10 gallon batch)

18 lb
-
2-row
4 lb
-
crystal 40°L
2 lb
-
biscuit
2
-
1056 american ale wyeast
2 oz
-
magnum 13.4% aa (boil)
2 oz
-
cascade 8.0% aa (5 min)
½ c
-
pumpkin pie spices
(in secondary ¼ c per 5 gal)

Brew schedule

7:50
start heating strike water (9 gal)
8:20
mash starts - mash: 154°F
strike water: 164°F
9:27
mash ends - mash: 152°F
9:50
sparge starts - mash: 161°F
water: 176°F
10:05
sparge ends - mash: 164°F
water 170°F (7 gals added)
10:50
hot break ends
11:50
boil ends
12:40
all cleaned up
Transfers

| | |
| --- | --- |
| 10.12.2009 | secondary |
| 11.22.2009 | kegged |

Specs

Original gravity: 1.051
Secondary transfer: 1.016
Final gravity: 1.014
3.8% by weight
4.8% by volume

Notes
Slice pumpkin in half, seed, place on baking sheet face down with
¼ inch of water, roast at 350° for 60 min, shell, place on cookie
sheet, broil on top rack for 5 min.
Roast seeds - set to broil for 2 min, stir, broil 1 minute, watch closely.
Boil 1 qt of water, added spices and boil for one minute, pour
half into each secondary.
Water-spice mixture foamed when added to water, mixture became very
slimey, use more water next time?
Pumpkin pie spice: ¼ c cinnamon, 2 tbsp ground ginger, 1 tbsp nutmeg,
1 tbsp ground cloves.
Not much hot break, temperature maxed out at 211°.
Tasted
really
bad when kegged.
Tasted
really
good after aging ~1 week.